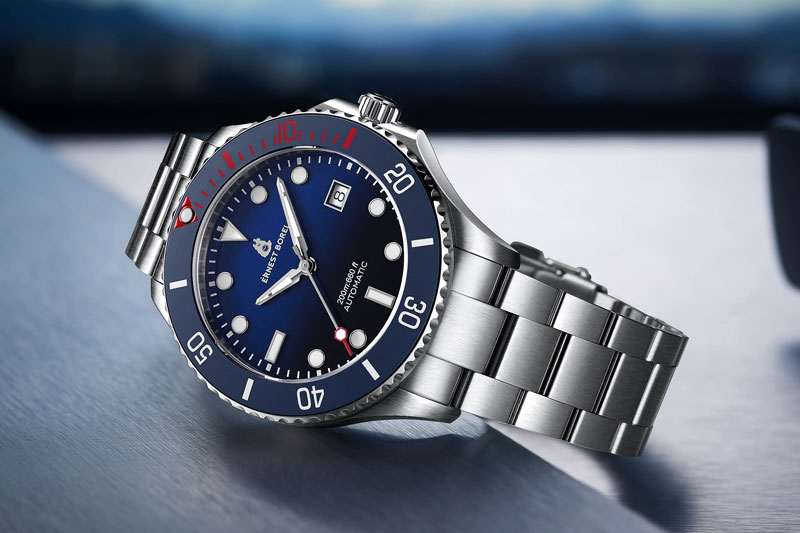 The newly launched SAGE COLLECTION aims to pay tribute to generations of watchmakers with unique sagacity and struggle spirit, and share the sagacious philosophy of romantic life with the whole world. The Sage Collection is designed with modern cool sports style and equipped with Swiss made mechanical movement, also possesses 200-meter (20ATM) high waterproof function. It shows the profound exploration of waterproof technology by ERNEST BOREL and perfectly interprets the time wisdom. The gradient green, blue and black enamel dials, with pure and meaningful "time light pattern", reflect the ingenuity design and "Sage" essence. The Sage Collection strives to explore all the possibilities of yourself and the world.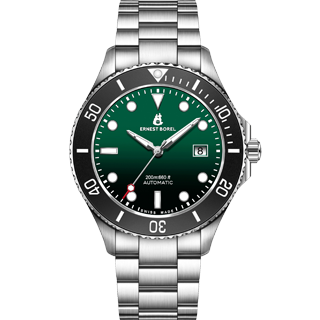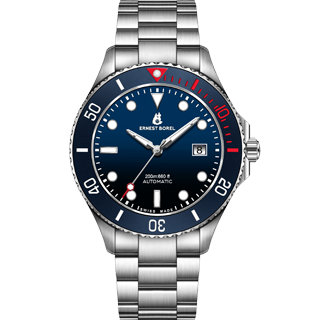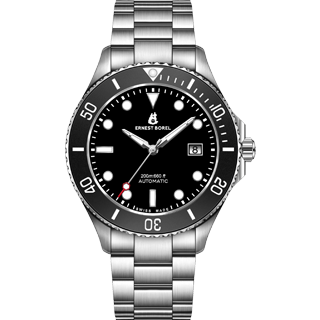 Design features:
Green/blue/black enamel dial and blue/black ceramic bezel, uni-directional rotation timing bezel
A brave man is sage and fearless and will achieve unusually brilliant results in life. The green dial is dynamic and fashionable, the blue dial is distinguished and elegant, and the black dial is cool and easy matching. The Sage Collection brims with a variety of colors and interprets diversified styles and self. The watch is designed with a special ceramic bezel which brings the mild quality of jade and the brilliant light of jewelry to the watch.Deep-sea exploration has never had it so well, thanks to the cutting-edge ceramic materials and technology that showcases the brand's exceptional watchmaking craftsmanship and uni-directional rotation timing function.

200-meter (20ATM) waterproof function and sport safety buckle
With sporty and scientific features, the Sage Collection is equipped with 200-meter (20ATM) waterproof function and sport safety buckle. It is suitable for underwater sports with high impact and some diving activities, and is ideal for underwater exploration. 200-meter water resistance means that water will not penetrate it in a static state at 20 atmospheric pressure. It does not mean that you can dive or swim to a depth of 200 meters underwater.
Bright luminous indexes and sword-shaped luminous hands
With a bright luminous coating applied to its hands and indexes, the readings are always visible anywhere both day and night, so that you will not miss any of wonderful moments in life.
Designed with cool sporty style and equipped with black rubber strap
Its design gives off a sense of aesthetics and gravitas, its performance is top-notch, and its quality is solid and enduring. Additionally, each watch is equipped with a skin-friendly black rubber strap with a high level of safety, which the user can replace at any moment, so as to control the wrist style freely.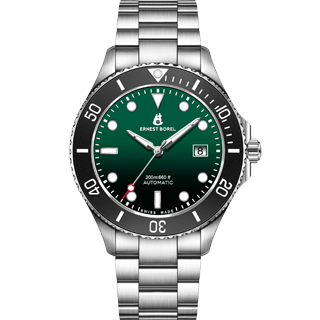 Model-N0735G0A-MC9S
ETA2824/SW200/SW200 SG
Swiss Automatic movement
ETA2824/SW200/SW200 SG
Gradient green enamel dial
Black ceramic bezel
Calendar display window at time scale 3H
316L fine steel case and strap
Sapphire crystal watch glass
Transparent bottom
200-meter waterproof function
Watchcase size: diameter of 42.00mm, thickness of 12.2mm
Independent coding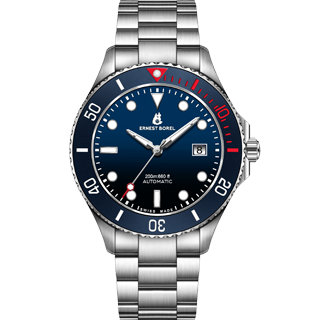 Model-N0735G0B-MC6S
ETA2824/SW200/SW200 SG
Swiss  Automatic  movement
ETA2824/SW200/SW200 SG
Gradient blue enamel dial
Blue ceramic bezel
Calendar display window at time scale 3H
316L fine steel case and strap
Sapphire crystal watch glass
Transparent bottom
200-meter waterproof function
Watchcase size: diameter of 42.00mm, thickness of 12.2mm
Independent coding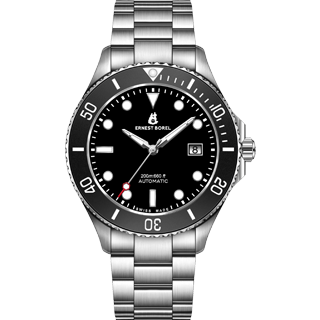 Model-N0735G0C-MC5S
Swiss automatic movement ETA2824/SW200/SW200SG
Black ceramic dial
Black ceramic bezel
Calendar display window at time scale 3H
316L fine steel case and strap
Sapphire crystal watch glass
Transparent bottom
200-meter waterproof function
Watchcase size: diameter of 42.00mm, thickness of 12.2mm
Independent coding  
For more brands and product information, please search on Swiss Ernest Borel's website: www.ernestborel.ch/en/   
Customer service hotline in China: 400 830 3865/800 830 3865