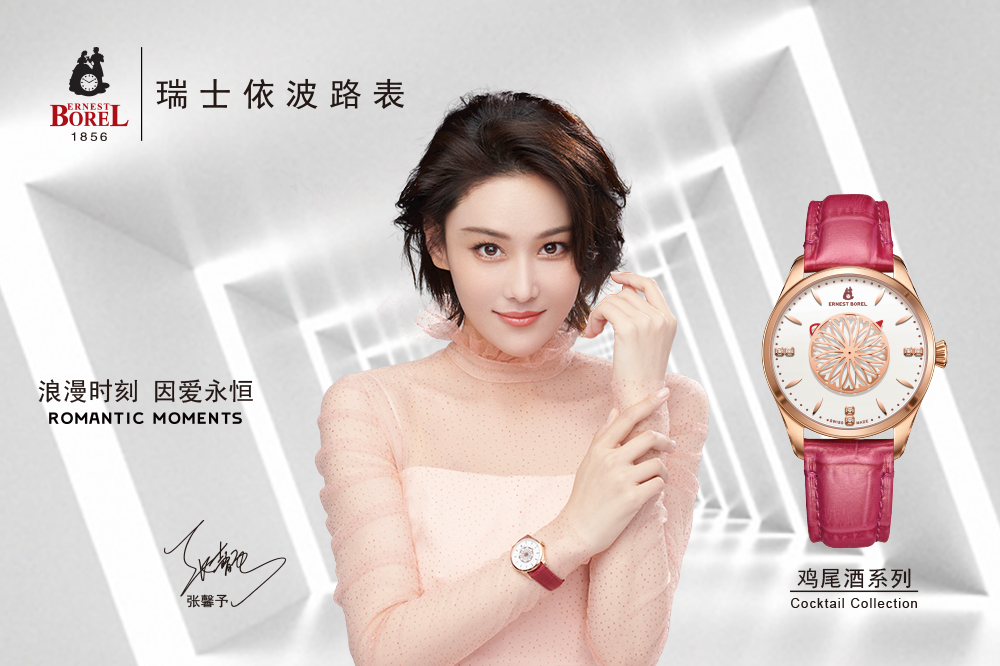 From November 5 to 10, 2021, Ernest Borel will make a debut at the 4th China International Import Expo. Ernest Borel was founded by Mr. Jules Borel, a famous watchmaker, in Neuchatel (the holy land of timepieces) of Switzerland in 1856. It has witnessed 165 years of watchmaking savoir-faire and heritage. Ernest Borel builds its reputation by continuously launching wristwatches recognized and favored by consumers in adhering to the spirit of seeking and exploration and the concept of making high-quality romantic timepieces, for which it is praised as the paragon of Swiss-made couple watches.
Upon more than a century of changes, its understanding of romance runs through the brand's artistic style like an artery, and is reflected in the meticulous pursuit of excellence in technology, beauty, function and quality. Relying on Swiss professional watchmaking technology, and inspired by the idea of integrating traditional craft and fashion design, Ernest Borel has been recognized by many patented design and watchmaking authorities. It strives to refine every detail of the watch, and penetrate and extend the corporate ethos of "Romantic Moments" to all links of watchmaking, so as to transcend the timepiece itself and boast a long history, profound cultural heritage and unique characteristics.
The centennial legendary love story of Ernest Borel and its eternal love theme benefit from our watchmakers and designers' unique understanding of the romantic spirit of the brand. Mr. Ernest Borel, one of the brand pioneers, designed the widely praised Ernest Borel couple trademark inspired by his own true and legendary love story, injecting a vital romantic element into the brand. In 2021, Ernest Borel will bring a number of classic timepieces to the Expo, to perfectly interpret the innovative and enterprising spirit and romantic aesthetic style, inherit the timepiece culture and present the artistic charm of timepieces. Every wristwatch glows brightly and carries on the brand concept "Romantic Moments" which has witnessed a history of 165 years.
Cocktail Collection
N0116B0A-MR4L
Retail price: RMB¥8880
The Cocktail Collection is a very representative series in the history of Ernest Borel, which has won wristwatch design patents and many awards. The Collection gains its reputation for the magnificent awn star hollow dial design. The layered dial with beautiful and smooth lines forms a magnificent and eye-catching visual effect, releasing the charm of eternity as bright as flowers, and leading the fashion in the wristwatch industry.
In 2019, Ernest Borel upgraded the classic Cocktail Collection. The new design was inspired by the delicate pink and white Margaret daisy, with a petal-type dial rotating slowly on the pure white and clean enamel surface, like a flower blooming in the spring morning. A touching interpretation of modern fashion women's brave pursuit of love is presented in an amazing manner. The Collection is famous for its magnificent hollow dial design. Every overlapping and rotating of the hands on the layered and dazzling dial are emblematic of budding love, implying expectations, enthusiasm and fantasy. Like modern women who boldly pursue their dreams and love, wristwatches speak to the sweet and passionate emotions when love comes.
ABOUT :  
Swiss made automatic movement ETA2824/SW200
Special design watch needle of Ernest Borel's Cocktail collection
Dial set with 6 natural diamonds 
316L stainless steel case
Numbered edition
IP electroplated rose gold
Sapphire crystal watch glass
Blue steel screw
Leather watchband
5 ATM water resistant
See-through back
Case size: diameter ø35.00mm, thickness 10.00mm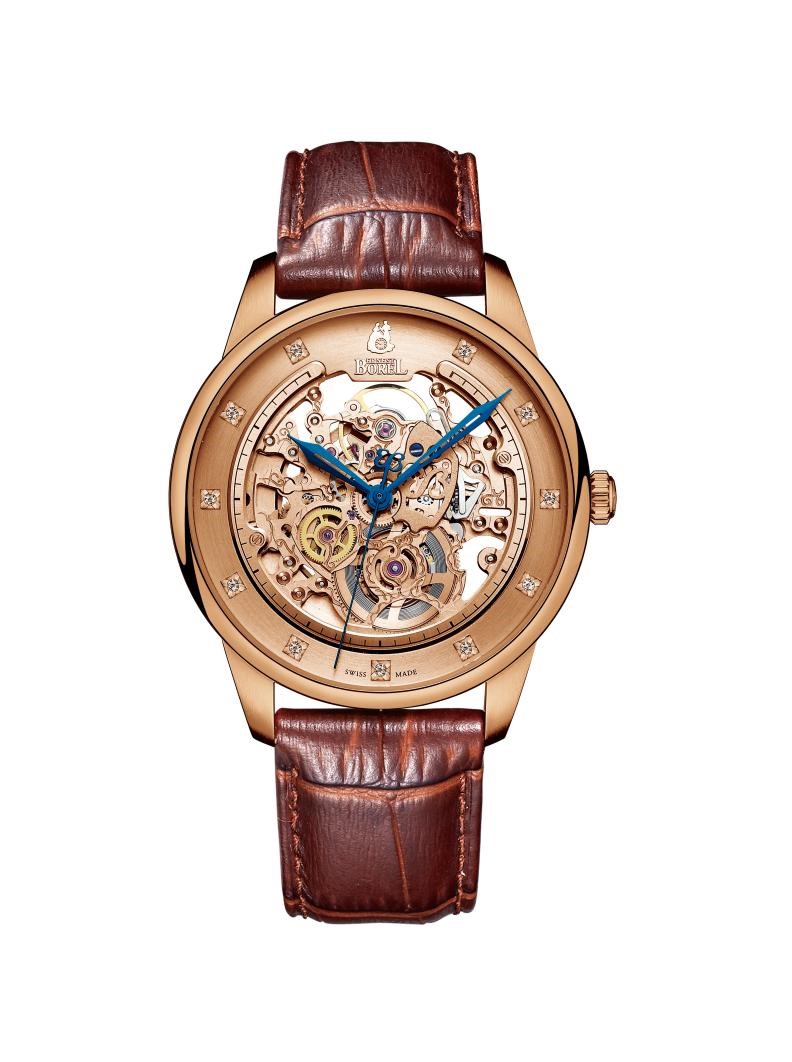 Jules Borel Collection
  GGR9338-33291BR
Retail price: RMB¥25200 
The Jules Borel Collection concentrates the abundant praises and exquisite craftsmanship that the brand has received, reached and mastered in its history over a century. The excellent hollow wristwatches of the Jules Borel Collection are named after Jules Borel, symbolizing the quality standard established since the establishment of the brand, which is not only a concentrated display of Ernest Borel's centennial techniques but also a tribute to the brand founder Mr. Jules Borel.
The Collection's central-second dial represents a classic epitome of history. The mechanical beauty of gear transmission is conveyed in detail through the fully hollowed movement and semitransparent case back. The fine cock carved with exquisite decorative patterns gently outlines the mesh surface; the balance wheel rotates, leads the connected mechanisms to perform their respective duties, and then drives the willow hands to move forward slowly; and the different colors of barrel, gear and jewel bearing further polish the dial surface. The 40mm round case is designed in moderate size and covered with a rose gold coating. The case is as smooth as a mirror, and ameliorates in the company of the sapphire crystal. The 11 glittering diamonds embedded in the octagonal inlay surround the dial and form a luxurious time mark with the 12-chroneme brand logo. The angular hour and minute hands, like two sharp blades cutting through thorns, symbolize the courage of Ernest Borel's watchmakers to create a precedent.
ABOUT :
Swiss made skeleton automatic movement SW300

Electroplated rose gold movement
Blue steel screw
Dial set with 11 natural diamonds
316L stainless steel case
10mic 18K rose gold plating
Sapphire crystal watch glass
See-through back
Complimentary Leather Strap
5 ATM water resistant and numbered edition
Genuine leather strap
Case size: diameter ø40.00mm,thickness 10.10mm
European Style with Majestic Momentum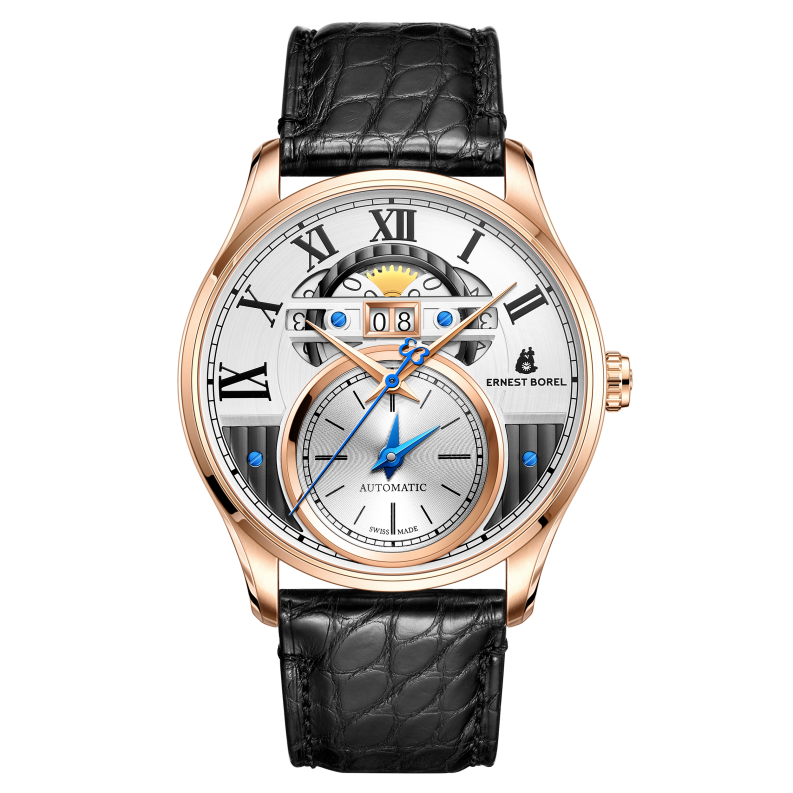 Grandeur Collection
  N0733G0A-SR2A
    Retail price: RMB ¥16800
Gothic architecture originated in France in the second half of the eleventh century. Through the main decorations such as towering spires, pointed arches and gorgeous flower window glass, it creates a metaphysical meditation on light and a symbolic understanding of numbers and colors, and shows a strong emotion of mystery and sublimity, bringing you an aesthetic experience of proportion, light and color. In 2021, Ernest Borel grandly launched the new Grandeur Collection inspired by this magnificent European Gothic architecture. The Collection represents a perfect cross-domain creation of wristwatch design and the famous European architectural style, as well as an ideal combination of contemporary high-end and sophisticated mechanical watches and traditional crafts.
Designers drew inspiration from the architectural art in the continent of Europe, and combined it with exquisite workmanship, thereby creating N0733G of the Grandeur Collection, a wrist treasure. The brand-new Grandeur Collection is equipped with TT651 high-end Swiss mechanical movement, and especially emphasizes the process treatment for each wristwatch detail, so as to show a hierarchical pattern design and make itself a new wristwatch series with unique European style. Multiple details of the watch are made of 18K gold, to continue the magnificent, mysterious and elegant charm of iconic European Gothic buildings. The Collection is an elegant and lasting visual boutique that is specially born for people who enjoy romantic life. Equipped with a black crocodile leather watchband, the wristwatch may fully embody the elegant and exquisite temperament of its owner, and help each successful person and business elite form their own collocations style to easily deal with various important business occasions.
ABOUT:
Swiss made automatic movement TT651
Geneva stripe
Blue steel screw
Big calendar display window at time scale 12H 
Dual time zone
18K rose gold coated parts on dial
316L stainless steel case
IP electroplated rose gold
Sapphire crystal watch glass
See-through back
Genuine leather strap
3 ATM water resistant
Numbered edition
Complimentary Leather Strap
Case size: diameter ø42.00mm,thickness 10.80mm
Engrave History and Inherit Romance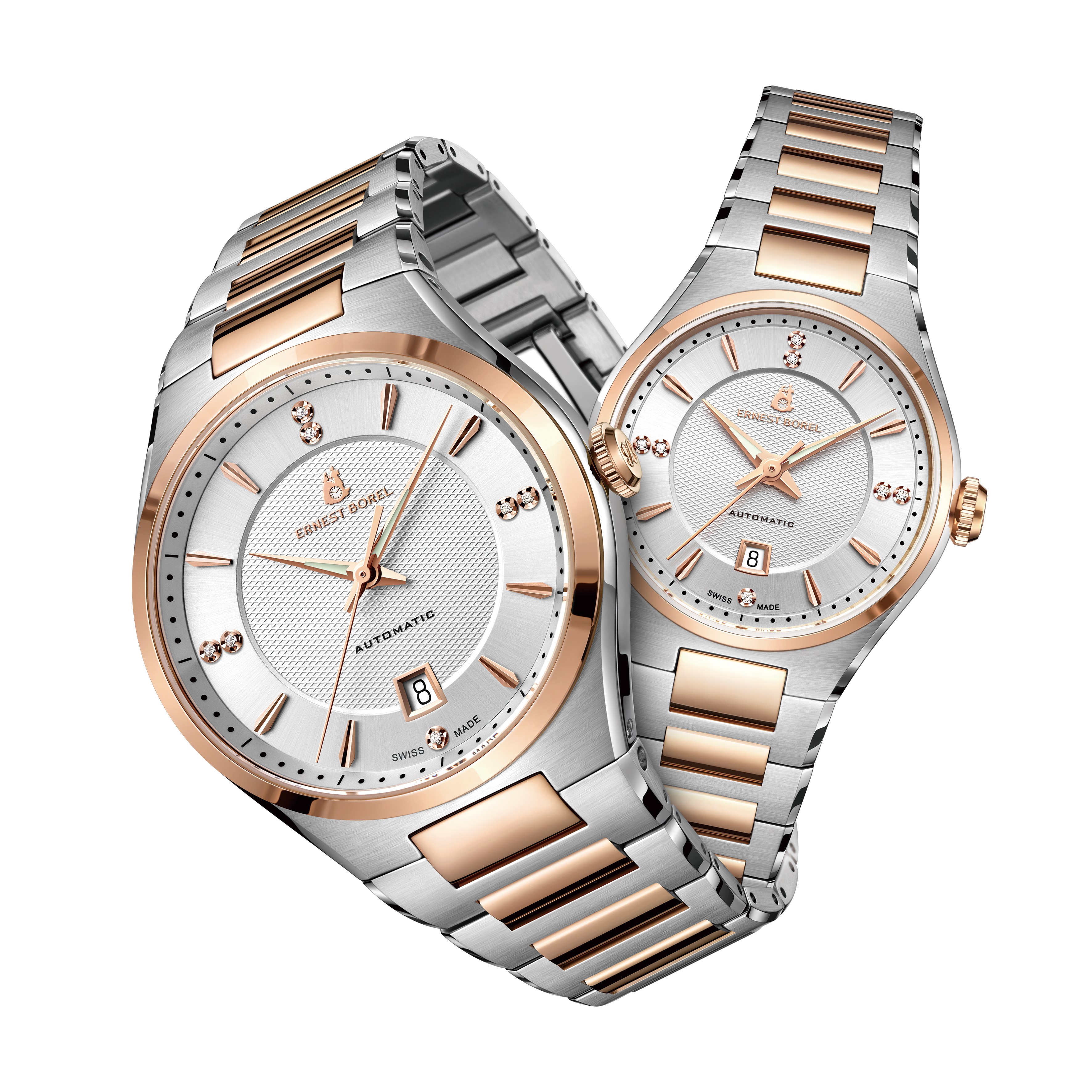 Heritage Collection

N0565G0A-MN2N (men's) / N0565B0A-MN2N (women's)
Retail price: RMB¥7280 (men's) / RMB¥7280 (women's)
The Heritage Collection means to inherit the centennial Swiss professional watchmaking technology of Ernest Borel. With innovative inspiration and modern exquisite technology, classic replica wristwatches with modern fashion elements are launched under this collection. 2021 represents the historic moment of Ernest Borel stepping into its 165th anniversary. In the name of the Heritage Collection, Ernest Borel's watchmakers have made great efforts to create the 165th-anniversary couple wristwatches, paying tribute to the brand's centennial style and extending its imperishable legend.
The 165th-anniversary couple wristwatches full of retro and nostalgic expressions present an integrated perfect shape and lines in a shocking manner, and the smooth joint design of the case and band brings a new experience of visual and tactile senses; the dial is engraved with oil pressure pattern and sun pattern, and the multi-level design of the minute and second dials extending from the center to the outer brings a wonderful three-dimensional effect to the wristwatch; the brand has specially customized a decagonal base back for the wristwatch, implying "all perfection"; The case back etched with the pattern of Ernest Borel's Swiss watchmaking plant makes the wristwatch look like a dazzling, exquisite and commemorative 165th-anniversary badge of honor, and enables the charm of history to carry charming and eternal brilliance from generation to generation, which is worth our careful appreciation and collection.
About: (men's)                          
Swiss made automatic movement ETA2824/SW200                         
Calendar display window at time scale 6H                                            
Dial set with 7 natural diamonds                                    
316L stainless steel case and bracelet                                      
IP electroplated rose gold                                            
Sapphire crystal watch glass                                      
3 ATM water resistant                                            
Numbered edition                                                           
Case size: diameter ø40.00mm, thickness 11.10mm
About: (women's)
Swiss made automatic movement ETA2824/SW200/SW200 SG
Calendars display window at time scale 6H
Dial set with6 natural diamonds
316L stainless steel case and bracelet
IP electroplated rose gold
Sapphire crystal watch glass
3 ATM water resistant
Independent coding
Case size: diameter ø32.50mm, thickness 10.20mm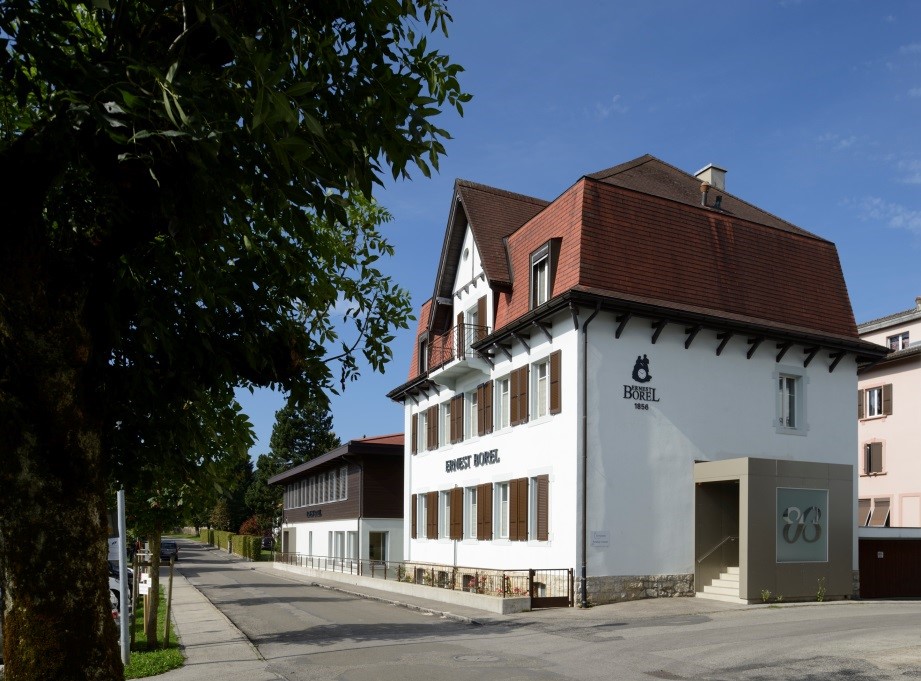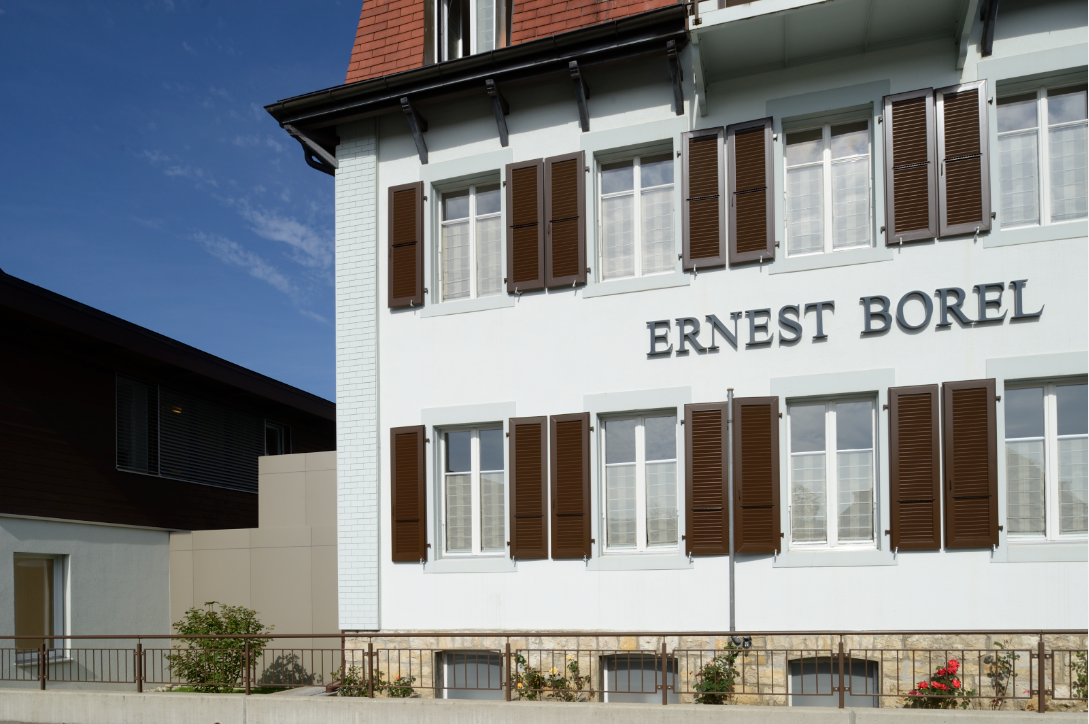 Brand Information of Ernest Borel
In 1856, Mr. JULES BOREL established the first watchmaking workshop in Neuchâtel of Switzerland, the holy land of timepieces. It has witnessed a history of 165 years. The brand has cherished the corporate ethos of "Romantic Moments", and carefully combined its elegant culture with exquisite workmanship, for which it builds a high reputation in the field of timepieces.
The trademark of Ernest Borel originates from a romantic legend: ERNEST BOREL, the second owner of the brand, danced with his beloved girl at a noble ball. The touching moment before the reporters present immediately turned into an eternal touch deep down, and caused them to press the shutter. As such, the silhouette design of their dancing became the brand logo of Ernest Borel, leaving a freeze frame of this centennial romance. Ernest Borel wristwatches vividly interpret the meaning of "Romantic Moments". Even in the turbulent years of World War II, Ernest Borel never stopped the development and production of wristwatches. The brand image of couples dancing together maintained tenacious and positive vitality in a tough environment, leaving an unforgettable impression on the world, and accordingly, the brand was highly praised around the world.
In the history of 165 years, Ernest Borel wristwatches have won numerous awards worldwide: As early as 1866, the brand won the title in the competition of similar products held by the Neuchâtel Observatory, the highest authority of Swiss timepieces at that time. In 1876, Ernest Borel won a certificate of high quality in Philadelphia, USA. In 1878, the brand won a precious gold medal from the Swiss watch industry in Paris, France. In 1937, it won the GRAND PRIX honorary award in Greece. Between 1945 and 1959, the Neuchâtel Observatory issued the BULLETIN DE MARCHE certificates to 4,172 Ernest Borel wristwatches. Especially in 1958, the Neuchâtel Observatory awarded the first prize to two Ernest Borel wristwatches, which has since established the brand's stable international status. In the ranking of the number of certified Observatory wristwatches published by the official Swiss testing agency in recent years (in terms of the number of timers), Ernest Borel has always been among the best. It ranked 11th in 2013 and jumped to 8th in 2014. Ernest Borel is also a member of the Federation of the Swiss Watch Industry ("FH").
At present, Ernest Borel has stores in Switzerland, Europe, the United States, China, the Middle East, Australia and many other countries (nearly 800 sales points around the world), providing customers on all continents with its noble services. Over 165 years, Ernest Borel has been praised as the paragon of Swiss-made couple watches due to its mechanical aesthetics of both romance and precision. The brand also adheres to the exploration spirit of seeking excellence, constantly integrates professional technology and elegant culture, and brings unique romantic culture and consumption experience to customers all over the world. In recent years, Ernest Borel has joined online marketing and explored a new mode of digital experience. From tradition to cloud, it shares the romantic taste of life and excellent wristwatches with the world, acting as a companion in people's life.
Brand ambassador of Ernest Borel
Viann Zhang
At the historic moment of its 165th anniversary in 2021, Ernest Borel has enlisted Zhang Xinyu, a celebrated movie star, as its new spokesperson, to join hands with her to usher a brand-new, romantic chapter and create a high-end pattern.
With her elegance and acting skill, Zhang Xinyu has long been active on the big screen, starring in a host of films and TV series such as Flying Swords of Dragon Gate, The Romance of The Condor Heroes, Love Advanced Customization, as well as this year's heat Bugler in Position. She has created many classic roles in various high-quality films and TV plays. In recent years, Zhang Xinyu also participated in a number of variety shows like Dog Partner, Mars Intelligence Agency Season 5, and Sisters Who Brave Winds and Waves Season. With a bold and independent personality, Zhang is very popular with the audience Her graceful and beautiful figure with an ever-changing image is a frequenter of fashion events. Her romantic and elegant attitude towards life particularly tallies with Ernest Borel' s brand concept of "let romantic moment become eternal for love". New breakthroughs are expected in this cooperation.
Zhang Xinyu has had a happy life with her husband whom she met at her best. Even with many roles in her life, she is still able to balance her career and family. This tough and independent woman is romantic and gentle, and embodies both grace and strength. Zhang Xinyu' s endorsement of Ernest Borel' s wristwatch style not only brings a unique experience to its fans both in form and spirit, but also creates a new visual image for the brand.